Description
Genius in the details
With Fender's Time Machine 1959 Precision Bass Journeyman Relic, there's genius in the details. This remarkable guitar's beauty, tone, and playability are no accident. Originally sporting a noncontoured "slab" body at its 1951 launch, the Precision received its first makeover for the '54/'55 model year, gaining the comfortable Stratocaster-like body contours we know and love. Of course, a late-'50s Precision has to have the classic gold anodized aluminum pickguard. Then, there's the satisfyingly chunky quartersawn maple neck crowned by a vintage-style slab rosewood fingerboard with rolled edges. But in a nod to modern player preferences, this 'board has a 9.5″ radius and 20 6105 frets. And pumping out that classic beefy growl is a hand-wound Custom Shop split-coil '62 P Bass pickup.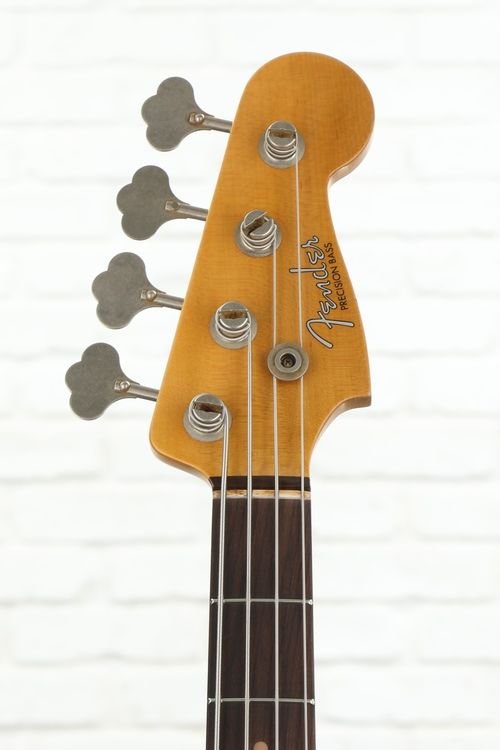 Painstaking vintage accuracy
For the Time Machine 1959 Precision Bass Journeyman Relic, Fender Custom Shop artisans referenced several original '59s and exhaustively analyzed them to ensure a painstaking level of vintage accuracy. Every facet of the original instruments — including minute details, such as curves, perimeters, radii, and more — was examined, measured, evaluated, and ultimately incorporated into this amazing instrument. Take it from Sweetwater: what you see in this remarkable axe is more than the sum of its parts. It's a highly playable, eminently musical-sounding re-creation of an iconic instrument that changed music forever.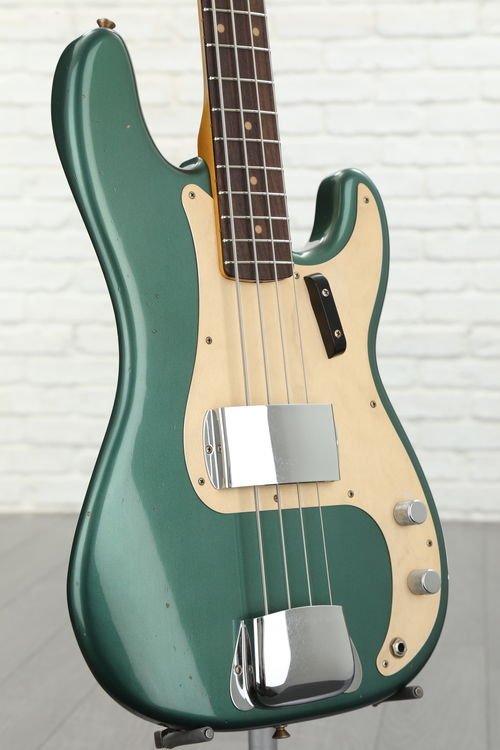 The Journeyman Relic treatment: 60-year-old visuals, modern playability
The Fender Custom Shop Journeyman Relic treatment creates instruments that are spittin' images of the aged originals. Without sneaking a look at the neck heel stamps, you'd be hard-pressed to distinguish this Time Machine from the real deal. Sporting a gorgeous relic'd nitrocellulose lacquer finish complete with artfully applied nicks, scratches, and aged hardware, this P Bass exudes the timeless, classic look of a well-cared-for instrument that nevertheless has seen decades of touring action. Nitrocellulose lacquer finishes — standard back in the day — are significantly thinner than today's polyurethane finishes, allowing the guitar to "breathe." They not only look vintage-y wonderful; they also enhance the instrument's tonal qualities; so your Time Machine 1959 Precision Bass Journeyman Relic sounds every bit as wicked as it looks!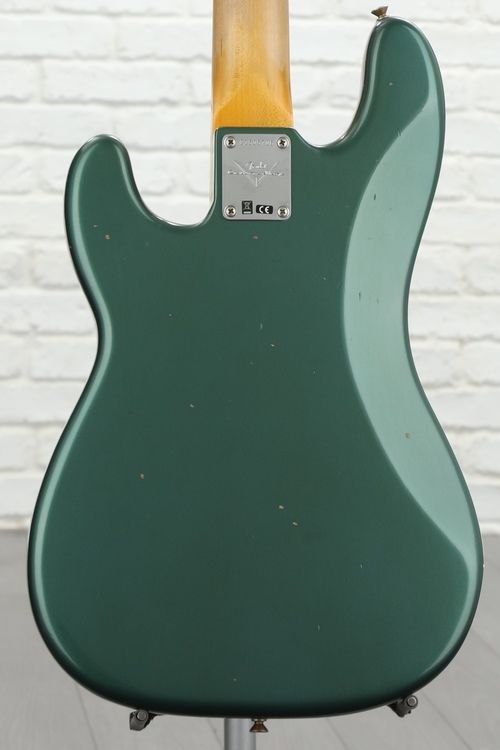 Fender Custom Shop Time Machine 1959 Precision Bass Journeyman Relic Features:
Alder body with gold anodized pickguard
Quartersawn maple neck with 1960 P Bass Oval C profile
Slab rosewood fingerboard with modern 9.5″ radius and 20 6105 frets
Handwound '62 P Bass split-coil pickup
Vintage-style bridge and tuners
Journeyman Relic nitrocellulose lacquer finish
Includes hard case and Custom Shop Certificate of Authenticity